Chapter 52. Quibbles Rubbled
12 December 2011
18:01
Y you are taking this much time to realize how much you love me ..and why you missed to see the covet in my eyes for you ...for life ...you are my life ..could u imagine what i ahd gone through when u left me like that ...how could u think of leaving me like that ... ..
How ...he cant say anymore he sobbed heavily hugged her tight ... ...
And they lied there in the moonlight like onebody one soul ...
Crying realizing each other ...feeling each other...
She was deep asleep , but woke up , when he slowly shifted his weight away from her in care in his deep sleep , he hold her like some flower across his chest and cocooned softly .. But she loved it when he put his heavy legs around her thin waist keep her immobile between his legs
She dont wanted to question him , she understood , every word he spoke .every word unspoken that embedded in his strong never let go hug.. She felt like it was rejuvenating all the dead shattered pieces of her soul ...she don't wanted anything anymore from life ...
He loves her ... Someone unknown to her , yet so close to soul , she always felt the warmth of the protection of someone's love around her even in her worst times she don't know what's really kept her alive in spite of all these ...its his love ...
Its his love , that weaved protective shell ,and saved form going insane ... If it was not there .. With all that happened to her ... No ..she don't want to remember ...
She snuggled his chest and nuzzled his neck ...his body is so tempting ..she smiled inwardly ..No wonder i ..slipped .. .
Once again she assured him asleep slowly traced her tongue tip around his adams apple ..wetting it
Then the beautiful morning rays , just adored it with its bliss shining it ... Her eyes sparkled ..
She could feel her wetness in her private parts ..
Seems he is sleeping but she was not sure about him now she cant trust all the four years ..
With what they did last night, realizing the wild tiger sleeping in him , the way he captured her and made her each and every part of her body shiver , shy and dance with pleasure she was sure he gain access to his mobility later only , other wise with this much wild passion in him , he cant have controlled ... And ... Then she chuckled of the thoughts of whatever pranks she played with him , she could feel her toes too turn red in embarrassment and she hid her face in his chest ...
He chuckled in closing his eyes .. She felt his body shaking in resonance with the smile formed in his lips , she got conscious , is he awake ?? He slowly rise her face and looked innocently at his face , eyes closed ..wide smile in his lips ..and cute dimple ...
She slowly [parted her lips slightly in anticipation .. Slowly inched towards him ... But .. Doubting him or feeling shy ..she ..stopped for a moment but his lips ...so yummy tempting ..she gulped and ..wet her own lips feeling the taste of ..
He with his eyes closed whispered .. " hmm i am waiting ... For my bed coffee ... ""
She shivered and quickly tried to sit ..and she understood there was nothing in her body and she quickly grabbed the blanket and tried to move grabbing it ...
Maan still his eyes closed .. "complained .."" hmm hmm ..if you take it , are you planning to lay me like this in my birth suit ... "" ..oh ... His lips ..when moved to in complaining ..and his face so cute ...
Geet , Stop it ..already bahuth hogaya ..ye ab ..ye thuhmarey barey mey kya sochengey ...Anymphomaniac... Chee Chee Geet ..Hold On .. .See You Spend Four Years with him and never skipped ... Then what about ..that night ..a serious Geet frowned at her from her heart ..Drama Geet .. Waked ehr ..oyee ..where were u when he was confessing yesterday .. He was waiting for that , now after ..she shied .. The serious Geet shook her head ..uff Drama ... Now .. I know ..that ..the other ...
Ehh ... The other day too it was not me ... I mean not only me ..but he too ...
Serious Geet in her Heart ( Its Antharathma ..waited ..tapping foot ..)
Geet got Gussa at her Uff why should i share our private matters with you ...?? No ... .He is mine and i will do whatever ..i want ..with that shouted to her Antharathma Serious Geet ..
She came back to where she was from her little chit chat session in her mind leaving the serious athma jaws drop down
And she posessively very fondly hugged maan ..as if to show ..see what i am doing he is mine ..
And her hands snaked around his back nuzzled his chest .. The psessive ness and her simple tight hug ...
Maan instantly felt his manhood ready to take another ride , but he was sure ... Geet is hell tired and she cant take anymore she need rest ... Well , he felt himself ..
Hmm not bad maan , you actually became a master in controlling . Yes when love overpowers all emotions ..
He tried to Move away from her ..slightly ..
She grabbed him ..and seriously took his lips ...
And whispered i dont keep coffee her , chai se kaam chalalo ...
And ..she sprawled her legs around him , and ready to take him arched back , ther torso touching as if their body glued togetehre ,and she staretd to kiss passionately his neck shoulders ...
Maan sighed heavily ...laughed ..and slowly hold her little away from him ...
hh ..Oh ,, no ... No chai No coffe ,... Oh Mamma ... ... Already we gone too too sso far ..merey Mummy Abhee Ayngey ..Mai Unko Kya jawab .doon... ... Nahee Nahee ... Ab now ..my tigress has to wait ... ..Vo Sirf hamarey Suhag Rath ko ... Vo ... "" she stopped and stared at him .. He continued Naughtily Looking at her perplexed face ...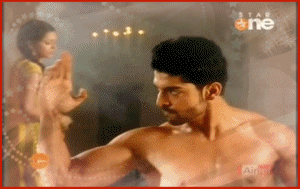 continued ...9thanks a million speechless for this picture hayee